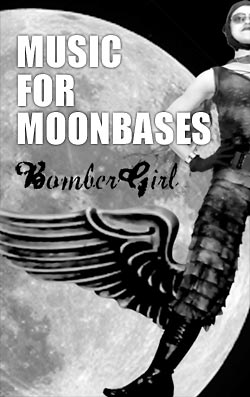 Click Here for Current Shows and Events
Past Shows
AUG. 16, 2011
Warper Party
Zamaan Bar Brooklyn
2 floors of beauty, beeps and bangs, Bombergirl at 10:25.
JAN. 22, 2011
Discontense
An evening of experimental music.
Grab Mom and Dad's amex and pick up your best flannels from the cleaners : it's time for Deviant Art Music in Brooklyn.
More info....
NOV. 5-20, 2010
The Libertine by Stephen Jeffreys
Playhouse Creatures risque production of The Libertine, original music by The Mechanic. Schedule, Tickets and More info....

JUL 20, 2010, 9:30pm
Music of the Electron
Exaltron, RedGreenBlue and BomberGirl team up for a night of electronic mayhem in the back room of the Parkside Lounge. Visuals by ATOM. MAP
JUL 10-18, 2010
Six by Tenn
Come see 6 rare one-act plays by Tennessee Williams at the historic Red Room theater. Produced and performances by BomberGirl, live music by The Mechanic. Tickets and info at : www.playhousecreatures.org
MAY 21, 2010, 7pm
Trapeze School of NY
BOLLYWOOD TRAPEZE SHOW, need not to say more. DJing by The Mechanic (aka DJ Naan), aerials by BomberGirl. Seating is limited, call 212-242-8769 to reserve your FREE ticket(s).
MAY 7, 2010, ca. 12am
Rubulad Party, Brooklyn
338 Flushing btw Classon & Taaffe
Last minute ultra gig : the mechanic solo will be entertaining at "the burning man of Brooklyn." Theme party : TIME TRAVEL, dress is highly recommended.
MAR. 10, 2010, 8:00pm
Warper Party, Knitting Factory, Brooklyn
WARPER 4 Year Anniversary Blowout! Live music from 8pm sharp 20+ electronic music acts Projected Images, Workshops, and Interactive Art too! BomberGirl @ 12:40.
Dec. 9-20th, 2009
Four Dreamers Theatre Co
Come see a play! Bombergirl is playing the part of Anna in Patrick Marber's CLOSER. Music and design by The Mechanic. More info and tickets at 4dreamers.org.
Sun. Nov. 1, 2009, 8:00pm
Galapagos Art Space, Dumbo
Crazy fun show with Jenny Roche's amazing Painted Ladies! MJ's Thriller performed LIVE.
June 21, 2009, 2:00pm
DUBSPOT 348 W. 14th near Hudson
Outdoor show as part of the Make Music NY Festival. MAP.
MAR. 4, 2009, 10:00pm
Warper Party, The Delancey, Manhattan
Dragon Ladies come out and sing Happy Birthday to BomberGirl Weill Whiskey pours most bombastically.
NOV. 10 , 2008, 7:30pm
Symphony Space, NYC
Performing in an exerpt Jordan Farrar's new opera, "Day Boy & Night Girl." Choreography by BomberGirl, The Mechanic on Violin.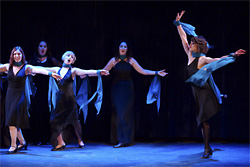 BomberGirl at Symphony Space NYC
OCT. 31, 2008, 8-10pm
Halloween Parade, NYC
Performance on a Halloween float.
OCT. 25, 2008, 6pm
Decompression, Brooklyn
Performance at the "Decompression" festival in Brooklyn in the Warper Theme Tent. Advance tickets are necessary, click here!
OCT. 23, 2008, 1am
Warper Party, Williamsburg, Brooklyn
Late nite set at the infamous Warper Party electronic extravaganza!
SEPT. 4-7, 2008 Musiksommer Festival in Bochum, Germany
Mike Litt's most amazing festival of music. BomberGirl will be opening for ATB!
05/17/2005 09:00 PM - Rare Nightclub
416 West 14th Street, New York City, NY
Our very first show, thank you Victor!
06/25/2005 08:00 PM - Piano's
158 Ludlow at Stanton, New York City, NY
Music for Moonbases with video by BomberGirl!
10/29/2005 09:00 PM - Blaggards Pub
8 West 38 Street, New York City, NY
01/28/2006 08:00 PM - Rufus Bar
640 10th Ave., between 45th & 46th Streets., New York, NY
All new luscious songs! Plus DJ Giles spinning until the wee hours...
02/09/2006 06:00 PM - New York Design Center
200 Lexington Ave. @ 33rd St., New York, NY
As part of "Parallel", an art opening. We'll be doing an all new lounge set, come view work of about 15 wonderful artists in this group show!~
Wednesday, April 19th, 2006: 8:30pm-12:00am
Rufus Bar
640 10th Ave. @ 45th St. (map)
A great evening is in the works! The extremely talented and amiable DB Leonard will be performing from his latest album, Carey's shiny accordian trio shall grace the stage, dance to Bombergirl's all new electro-set "Baby Toys", and DJs Giles & Dominic will be spinning amazing Brit and other favs until the cops show up. Be sure to say hi to Anne-Marie and Tony, your bartenders and best friends for the evening.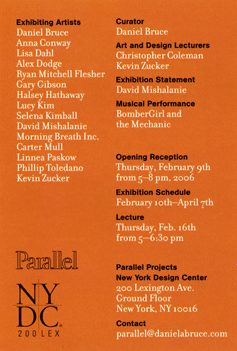 Tuesday, April 25th, 2006: 6:00pm-8:30pm
New York Design Center
200 Lexington Ave. @ 33rd St. (map)
As part of "Parallel", an art opening curated by the most extraordinary Mr. Dan Bruce. We'll be doing our lounge set as well as new songs, come view work of about 15 artists in this group show! Progressively unguarded conversations with creatives as the booze disappears ~ wine & huge chunks of chunky cheeses. ALL FREE!
Sunday, May 21st, 2006: PARADE 8:00pm, Show 10:00pm FREE!
BomberGirl at Solas: Performing our latest: Baby Toys
Special Guest Performer: Nick Flair juggler extraordinaire!
232 E. 9th St., between 2nd & 3rd Aves. (map)
Join us in a parade of action around the streets of the L.E.S. to stir up the numbness which seems to have descended upon our beloved city. Wear a crazy outfit bring a pan to bang and we will show that passion and individuality prevail! Meet at 8pm at Solas for the parade and then stick around to party to live music. In addition the amazing DJ Sensorburn will be spinning New Wave delights! www.BomberGirl.US
Tuesday, May 23rd, 2006: 11:30pm Warper Party
BomberGirl Late Night Show
Botanica Bar, 47 East Houston St. betw. Mott and Mulberry
Part of the Warper Party for users of Ableton Live software. "... The energy and synergy between all the artists and the fact that they all know each other and, for the most part, have in common the use of a software, is really great and potentially it could represent the start of great things..." Amazing live acts involving real time software-based performace!
Tuesday, June 27th, 2006: 9:00pm Warper Party
BomberGirl
Botanica Bar, 47 East Houston St. betw. Mott and Mulberry
A wild electronica night! Tons of performers all mashing up crazy beats. "... The energy and synergy between all the artists and the fact that they all know each other and, for the most part, have in common the use of a software, is really great and potentially it could represent the start of great things..." Amazing live acts involving real time computer-based performance - stuff you might not expect.... www.bombergirl.us FREE!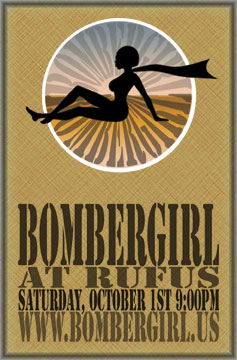 Friday, October 6th 2006, 11:00pm, $10
BomberGirl and the Mechanic
RUBULAD, 338 Flushing Ave., bet. Classon & Taaffe, Brooklyn, NY (directions below)
"When Rubulad puts on a show, they don't do it in a small way, it usually involves local and out-of-town bands, weird arty decorations all over the place, DJs, slide shows, costumes, quasi-legal beverages, drone-chants, giant-sized puppet shows, circus performers, cookouts, and a few hundred local hipsters staying up past their bedtime. There's a festive vibe here that's been missing from Brooklyn rock venues." - Village Voice.
Rubulad Comes Home Or Home is Where the H'Art is
A Homecoming Dance
Dress Cheerleader, King and Queen (drag is fun), Hero or Goat, Freaky
Formal. Get gussied up!
Featuring live music by: Les Sans Culottes, The Tuna Helpers, The Giggle Fits
With your deejays: Repoman, Lil' Shalamar, Gerald McBoing Boing, DJ 360
In the cabaret room: DJ Shakey and Moldover present Warper: omnidigital DJs and biomorphic musicians. Featuring Exaltron, Bomber Girl, Cosmo D, Moldover, Lucibel Crater, and Silver Tacos. See www.warperparty.com
In the starlight lounge: G. Scopitronic Non-Stop Film Fest, Rooftop BBQ, Garden by Anna (The Green Scene)
Plus: Light Circus of Norm Francouer, Malcolm Stewart (Groove Hoops), Yummy Chow by Vicious Delicious, Sweets by Brownie Points
Just click your heels together three times.
DIRECTIONS: L train to Bedford Avenue > B61 bus on Driggs to Flushing Ave (10 mins) > left under BQE > Rubulad's on your right just past the gas station *OR* J / M / Z to Marcy Ave > walk along Rev. Dr. GE Taylor Blvd > turns into Williamsburg St West at Flushing > left under BQE.
Or G Train to Flushing and follow address numbers. Note: The B61 bus runs from Greenpoint to Red Hook through Dumbo and Downtown Brooklyn. The B57 bus will take you to and from Bushwick, fast. www.BomberGirl.US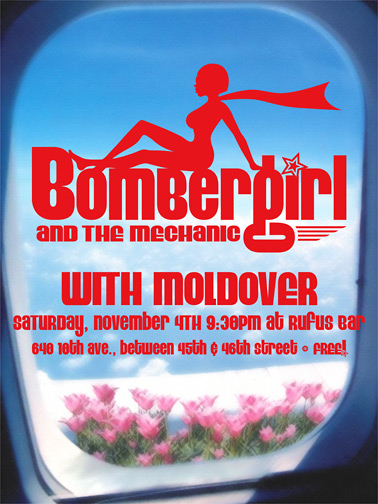 Sunday, October 29th 2006, 10pm, FREE!
BomberGirl and the Mechanic
SOLAS, 232 E. 9th St., between 2nd & 3rd Aves., Manhattan, NY (map)
Showcasing the best live acts from NYC's electronic underground. Rotating cast of DJs, spinning a high-voltage mix of classic and bleeding-edge sounds. Electro, synthpop, Italo, IDM, experimental, and more - you'll see and hear it all at SPLICE. www.BomberGirl.US
Saturday, November 4th, 2006: 10:00pm, FREE!
BomberGirl and the Mechanic
with special guest DJ Moldover!
RUFUS BAR, 640 10th Ave. @ 45th St. (map)
The next BomberGirl flight is scheduled for this Saturday night November 4th! Departure is at 9:30pm leaving from Rufus International Bar and Airport, there will be pre-flight and of course in-flight cocktails of all variety and exoticness - it is very unlikely that we will be landing any time soon after departure, so please make yourself at home, here are some slippers. BomberGirl welcomes aboard the super talented DJ Moldover of Warper Party fame, he will be performing his completely original live remashing of beat and song - this is to be experienced and certainly not to be missed! We know you have other carrier choices and we wish to sincerely thank you for flying with BomberGirl and the Mechanic! www.BomberGirl.US
Wednesday, February 7th, 2007
BomberGirl and the Mechanic
New Music Showcase Television Show, Springfield, MA
We're very excited to be in a video taping a full BomberGirl set for the New Music Showcase TV Show. Please check back for air times & channels. www.BomberGirl.US
BOMBERGIRL AND THE MECHANIC
CD RELEASE SHOW!!!
Thursday, March 15th, 2007, 10:00PM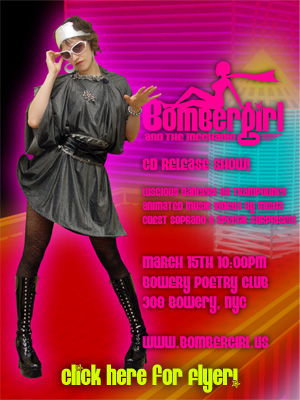 Bowery Poetry Club, New York, NY
308 Bowery, New York, NY 10012
Across the street from CBGBs, foot of First Street, between Houston & Bleecker
Dynamic dance pop duo back from their cable access debut are saddling up with giant glow sticks, bubble gun toting cowgirls on trampolines and synchronized swim-ettes. Joining BomberGirl via 20 foot boa is guest soprano Jordan Corbin-Wentworth. Costuming by Jacqueline Joseph and projections by Misha Townsend. Free glow necklace to the first braves to powwow. $10. Have a wig? Wear a wig! www.bombergirl.us
BOMBERGIRL AND THE MECHANIC
FRIDAY, JUNE 29TH, 10:00PM
GALAPAGOS ART SPACE, BACK ROOM
Download the PDF flyer ~
70 North 6th Street, between Kent and Wythe
Williamsburg Brooklyn, New York 11211
A fantastic night of music, dance, lavish costumes, amazing videos and DJs from another universe is in the works! Also joining BomberGirl is guest soprano Jordan Corbin-Wentworth, the BomberGirl dancers and 7 violins, oh my! Dust off your dancing shoes and prepare to fly with BomberGirl on FRIDAY, JUNE 29TH, 10:00PM. www.bombergirl.us
BOMBERGIRL AND THE MECHANIC @ WARPER PARTY
January 30th, 2008 Late Night
Supreme Trading Co., Williamsburg, Brooklyn
BomberGirl and the Mechanic will be doing an all improv set at the world famous Warper Party on January 30th! Live visuals by Tower Control. All new sounds and grooves, weirdness and mayhem! Midnight at Supreme Trading in Williamsburg.
DIRECTIONS | WARPER PARTY INFO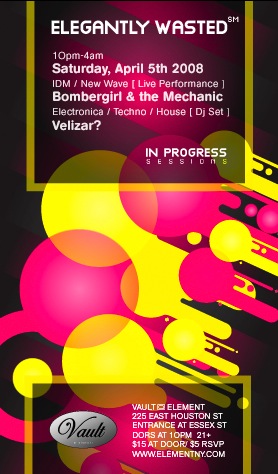 The Vault @ Element
BomberGirl Dance Party SATURDAY, APRIL 5TH 10:00pm
In the Caverns of The Vault
225 EAST HOUSTON ST (at Essex / Ave A)
New York, New York 10002 MAP/DIRECTIONS
Irresistable beats, sexy dancers, yummy cocktails ~ BomberGirl at 10pm, DJ Velizar at midnight ~ dance all night!
MORE INFO HERE
Elegantly Wasted With Velizar? is showcasing the roots and influences of innovative dance music while encouraging creative collaborations among producers, songwriters, arrangers, programmers, musicians, Djs, visual artists and dancers. The party aims at introducing and promoting underground talents while maintaining the highest quality of music by some of the most creative artists from across the electronic music world. It is a party that welcomes all intellectual and artistic people, and unites all within the exuberant spirit of electronic dance music.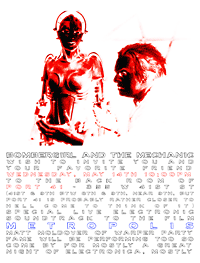 WEDNESDAY, May 14th, 2008 at PORT 41, 10:00PM, BACK ROOM, $7
355 W 41st St (between 8th Ave & 9th Ave)
You might know Port 41 as Tobacco Road back in the day. Screening of Fritz Lang's METROPOLIS set to live electronica, and special guest Matt Moldover will dazzle you with his unique brand of wizardry. Stop by the back room for a night of electronica / IDM that dances on the frayed edges....
TUESDAY, June 3rd, 2008 Otto's Shrunken Head
10:00pm $Free
538 East 14th (btw Ave A & B)
Tiki drinks galore and welcome to NYC Mr. Russ Scheidelman, the west coast's pundit of cocktail and lounge culture
Saturday, Aug. 9th, 2008
Sonarchy Radio, KEXP-FM (90.3)
Jack Straw Studios, Seattle, WA
Taping for an hour long broadcast on KEXP in the following months. Joining BomberGirl will be master of noisy toys Stuart Arentzen playing anything and everything he can fit in the studio....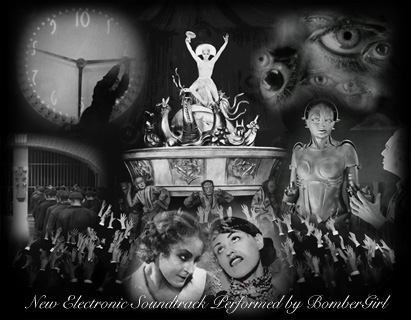 SUNDAY, Aug. 17, 2008 Monkeytown 8:00PM
58 N 3rd St (btw. Kent & Wythe)
Williamsburg, Brooklyn
Metropolis is a science fiction film created by the Austrian-German director Fritz Lang. It was produced in Germany and released in 1927 during a stable period of the Weimar Republic. It was the most expensive silent film of the time, costing approximately 7 million Reichsmark to make (equivalent to around $200 million USD in 2005). The screenplay was written in 1924 by Lang and his then wife, Thea von Harbou, and novelized by von Harbou in 1926. It is set in a futuristic urban dystopia and examines a common science fiction theme of the day: the social crisis erupting between workers and owners under capitalism.
Metropolis is set in the year 2026 in a world of Gothic skyscrapers and subterranean factories. Luxurious playgrounds of the privileged class contrast with the harsh, cavernous prisons of the working proletariat. In creating a new soundtrack for the film, these futuristic and contrasting elements lend themselves readily to hybridized electronic and acoustic elements: Metropolis seems to have been waiting many years since its release for sound technology to meet its vision. Utilizing computers, processed voice, keyboards and electric violin, BomberGirl and the Mechanic's soundtrack encompasses and blends a broad range of styles as the film progresses, from industrial to ambient, experimental to classical, all of which lends a new perspective to this exceptional, ahead-of-its-time film.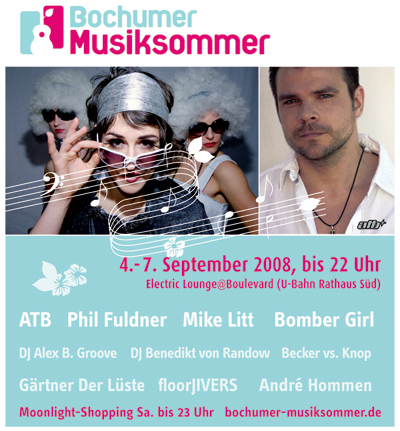 BomberGirl at Musiksommer in Bochum, Germany
SEPT. 4-7, 2008 Musiksommer Festival in Bochum, Germany
Mike Litt's most amazing festival of music. BomberGirl will be opening for ATB!
Vielen Dank to Gerald Baars, Karl, Mike, Sonja, ATB and WDR TV for making this such a very special time for us.
::: Home ::: About / Press Kit ::: Mailing List :::
::: Past Shows ::: Credits :::