About / Press Kit
Contact Info
Contact us at: BomberGirl@bombergirl.us or TheMechanic@bombergirl.us
Web Site: http://www.BomberGirl.US
PDF Files
Images
BomberGirl and the Mechanic LOGO Files
Please click on one of the links below to download our logo file:
BomberGirl LOGO Hi-Res Layered Photoshop File
BomberGirl LOGO Hi-Res JPG File
Hi Resolution Image Files
Please click on photos to download high resolution tiffs or jpgs. Neon artwork and video projections by Misha Townsend. If used for print please credit David Wentworth Photography. Costumes by Jacqueline Joseph.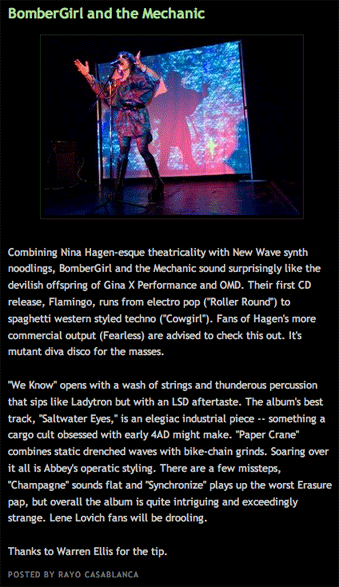 About BomberGirl and the Mechanic
Bombergirl and the Mechanic launch shows which are like raves with fantastic (sometimes bizarre) live entertainment. Sonic mayhem mixed with four Fosse-styled back-up dancers strutting and sometimes jumping on trampolines makes for an unexpected show. Whether joined by a violin section or jugglers, always a live VJ fills the imagination with textured places and pretty spaces. BomberGirl and the Mechanic are sure to take the night into flight!
Be sure to check out our promotional video with footage from the TV show, "New Music Showcase".
BomberGirl and the Mechanic is the deep beat driven sounds of electronica mixed in luscious, expansive symphonic orchestrations—a fusion of organic and synthesized soundscapes melting away boundaries under the heat of BomberGirl's voice. BomberGirl is inspired and surprising, whether it be poetic vocals both sultry and powerful, lavishly choreographed dance to electro-pop or a neon world inhabited by Zeppelins floating on currents of voice. Cameos and unique couplings abound in a BomberGirl show: characters leap, slide and slip away into subterranean caverns, or emerge over an arboreal canopy gliding on mechanical wings. BomberGirl flights bring a colorful and eclectically costumed dance troupe and animated stories projected into spaces...The stage is set and the dancers poised...Swirls of sound and sight fill the stage with excitement as eye and ear candy flood in a variety of delicious flavors.
Reviews
"BomberGirl...a truly original experience. When you are a part of this experience you will feel a bit of familiarity, at first you will go down that mental road of "who do these guys remind me of?" but as the experience continues you will realize they remind you of the person that you once were...free, uninhibited, magical, sensuous, child like, having a grand night at the roller rink with all your dreams ahead of you. If some how you never experienced any of those emotions or were never that person, you will transcend during a BomberGirl show. You will feel alive and you will have your faith restored in the art of originality." - Jackie J.
"BomberGirl takes the listener on a journey that bodies a dreamy and exhilarating ride. She tells a story that is sans pretense and full of dimension - always surprising us be it with a corps of gorgeous back-up dancers, haunting warm mezzo-soprano melismas, or a scientific break-down of a sunrise. The mechanic in his suitcase full of luscious harmonies and danceable, never-obvious fancies - breaks the gold-standard in virtuostic violin playing through effects. BomberGirl is charming with out being precocious, intelligent with out being labored with a spontaneous polish. BomberGirl's broken doll like grace, with her singular mix of modern and classical dance skeleton, shows itself without being careful. This is a band that defies description. One must experience it to believe." - Jordan C.
"Space-age and electrifying." - George F.
"I really love it...but I thought to myself these guys are really weird." - Vicki D.
"New existentialism." - Terence W.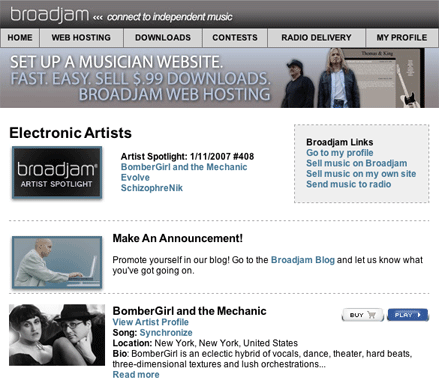 Bios
BomberGirl (Abbey) danced with Ballet Chicago and modeled for Geoffrey Beene. She is a founding member of Misnomer Dance Theater in NYC and her theater credits include Trinity Repertory's West Side Story. She has acted in several independent films including a principle role in "The Caveman" (New England Judges Choice Award 2002). BomberGirl has a BFA in sculpture from the Rhode Island School of Design and has dance training from Mark Morris studios, Joffrey Summer Program, Ellis-DuBoulay studio and Rosella Hightower School of Dance. Her vocal coaching is with Jordan Corbin-Wentworth, Constance Cooper and Francis Minerick.
The Mechanic (Edward) began his career as a fellowship scholar studying violin and viola. Performing an eclectic range of styles from rock to electronic, he has played with such acts such as Mercyside and toured with Modern English and Jesus Jones. The Mechanic scored and collaborated in music, film and television projects, including works shown at Cannes, Sundance and on the BBC. He has opened for Suzanne Vega and Sugar Ray at ABC's Good Morning America Studio and played in Christina Aguilera's orchestra at the MTV Music Video Awards. The Mechanic has recorded on such labels as Mi5, Aeterna, SubPop, Sony and Warner.
Tower Control (Misha) creates the fantastic animation/video elements in BomberGirl. Bio coming soon.
::: Home ::: About / Press Kit ::: Mailing List :::
::: Past Shows ::: Credits :::