BomberGirl in Dortmund!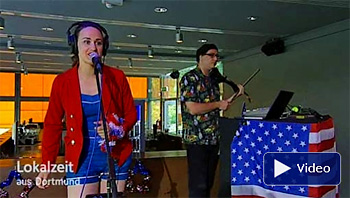 Saltwater Eyes Video
Extraordinary dance and vocals by BomberGirl, music by BomberGirl and the Mechanic, video and animation by Tower Control.
We Know Music Video
Bombergirl Music video for their splendorous song "We Know". Animation and video by TowerControl. Click to see the HI RES video LARGE or SMALL.
Also check out past promotional videos (including "Ipod Smash") Click HERE
Sign the BomberGirl Mailing List


For invites to the next BomberGirl event....

Your email address will NOT be sold or distributed and we mail about once every 3 months.
Flamingo on iTunes
Have a listen to the tracks on "Flamingo", our first CD. If you want to buy our tracks or album, please visit iTUNES or to buy our physical album see the column to the right - thank you very much for supporting our stuff!

All sounds written and produced by Abbey Dehnert and Ed Davis with additional vocals on "Anne-Marie" by Jordan Corbin-Wentworth. CD artwork by David Mishalanie. Videos, web site artwork, live visuals by Misha Townsend. Costumes by Jacqueline Joseph. All contents copyright 2007 BomberGirl and the Mechanic. Love and kisses to Priya, Jesse, Kate, Jillian, Reiko, Dan, Nestor, Tony and the gang at Rufus and all the sound engineers we cozied up to at nefarious bars.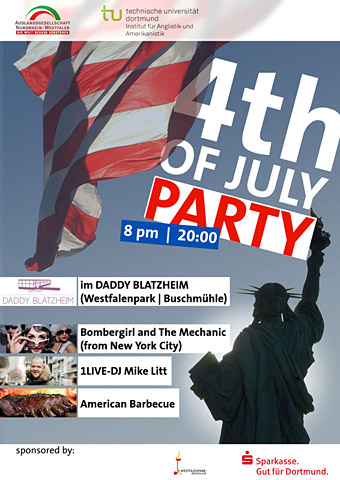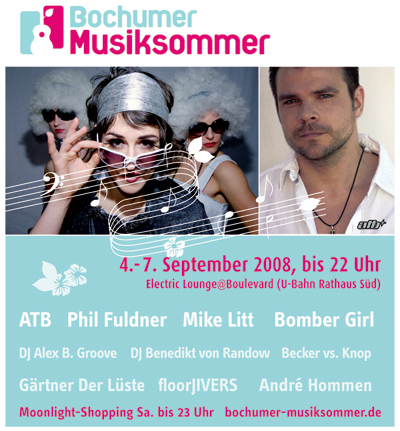 MySpace, iTunes and Other Links
Upcoming Shows
JUL. 4, 2012
German-American Society
Daddy Blatzheim
Dortmund, Germany
Special American themed 4th of July Party...in Germany!
JUN. 21, 2012
Make Music NY
Dubspot NYC
Afternoon show at 12:30 with the infamous Warper Crew, Exaltron, Banginclude, Atom, RedGreenBlue and MORE....
AUG. 16, 2011
Warper Party
Zamaan Bar Brooklyn
2 floors of beauty, beeps and bangs, Bombergirl at 10:25.
JAN. 22, 2011
Discontense
An evening of experimental music.
Grab Mom and Dad's amex and pick up your best flannels from the cleaners : it's time for Deviant Art Music in Brooklyn.
More info....
NOV. 5-20, 2010
The Libertine by Stephen Jeffreys
Playhouse Creatures risque production of The Libertine, original music by The Mechanic. Schedule, Tickets and More info....
JUL 10-18, 2010
Six by Tenn
Come see 6 rare one-act plays by Tennessee Williams at the historic Red Room theater. Produced and performances by BomberGirl, live music by The Mechanic. Tickets and info at : www.playhousecreatures.org
MAY 7, 2010, ca. 12am
Rubulad Party, Brooklyn
338 Flushing btw Classon & Taaffe
Last minute ultra gig : the mechanic solo will be entertaining at "the burning man of Brooklyn." Theme party : TIME TRAVEL, dress is highly recommended.
MAR. 10, 2010, 8:00pm
Warper Party, Knitting Factory, Brooklyn
WARPER 4 Year Anniversary Blowout! Live music from 8pm sharp 20+ electronic music acts Projected Images, Workshops, and Interactive Art too! BomberGirl @ 12:40.
Dec. 9-20th, 2009
Four Dreamers Theatre Co
Come see a play! Bombergirl is playing the part of Anna in Patrick Marber's CLOSER. Music and design by The Mechanic. More info and tickets at 4dreamers.org.
Sun. Nov. 1, 2009, 8:00pm
Galapagos Art Space, Dumbo
Crazy fun show with Jenny Roche's amazing Painted Ladies! MJ's Thriller performed LIVE.
June 21, 2009, 2:00pm
DUBSPOT 348 W. 14th near Hudson
Outdoor show as part of the Make Music NY Festival. MAP.
NOV. 10 , 2008, 7:30pm
Symphony Space, NYC
Performing in an exerpt Jordan Farrar's new opera, "Day Boy & Night Girl." Choreography by BomberGirl, The Mechanic on Violin.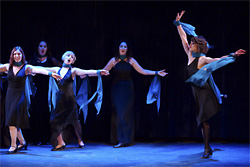 BomberGirl at Symphony Space NYC
OCT. 31, 2008, 8-10pm
Halloween Parade, NYC
Performance on a Halloween float.
OCT. 25, 2008, 6pm
Decompression, Brooklyn
Performance at the "Decompression" festival in Brooklyn in the Warper Theme Tent. Advance tickets are necessary, click here!
SEPT. 4-7, 2008 Musiksommer Festival in Bochum, Germany
Mike Litt's most amazing festival of music. BomberGirl will be opening for ATB!

Aug. 17, 2008 Monkeytown 8:00PM
58 N 3rd St (btw. Kent & Wythe)
Williamsburg, Brooklyn
Screening of Fritz Lang's film METROPOLIS set to live electronica! To reserve a seat, click here and enter some details and the date, August 17th, and time 8:00PM.
Aug. 9th, 2008
Sonarchy Radio, KEXP-FM (90.3)
Jack Straw Studios, Seattle, WA
Taping for an hour long broadcast on KEXP in the following months. Joining BomberGirl will be master of noisy toys Stuart Arentzen playing anything and everything he can fit in the studio....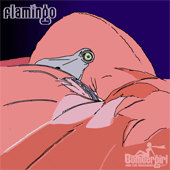 Read the story and see close ups of the amazing illustrations inside our album "Flamingo". Artwork by the illustrious David Mishalanie.
Order Flamingo
To order our CD, please click below. CD price includes shipping and they are $15 to the USA, $18 to outside the USA.